The facade for carpenters, facade builders and experienced do-it-yourselfers.
A facade designed for timber frame construction, which always convinces with its ceramic properties. Rain, storm, heat, cold – building facades are exposed to extreme conditions throughout their life. The ceramic panels of TONALITY, the second version of the ventilated ceramic facade of natural origin from the Westerwald.
Made in Germany.
Resistant and robust.
UV and frost resistant – in all weather and temperature conditions. Thanks to their high hardness, ceramic panels of TONALITY, like the normal facade elements, are insensitive to impacts and scratches, and are characterized by color and dimensional stability. The high quality of our ceramics also prevents mossing or rotting. Therefore, they are also suitable for particularly exposed weather sides of buildings.
Easy and secure installation.
The ceramic slats and the aluminium system rail are optimally matched to each other. The slats are secured by a broad locking pin in the profile. The default pre-bent angle can be bent into the desired final position using customary needle-nose pliers. Integrated pressure springs ensure a tension-free, but secure fit of the slats.

Maintenance free for a lifetime.
The Westerwald ceramics produced by the MCS process, combined with a high-quality seawater-resistant aluminium alloy, guarantee a lifetime of maintenance-free operation. Follow-up costs are reliably avoided.

Permanent availability.
The slats come in four modern colours with a matched substructure and are readily available from specialist retailers as in-stock products. They are suitable for use in both private residential construction and larger surfaces in rental, municipal and commercial buildings.
Future-driven.
100% natural. No use of composite materials, plastics or chemicals. The natural advantages of Westerwald clay are so impressive that there is no need for additives – benefiting both human health and the environment. The facade elements including the supporting structure can be used in other projects according to the re-use principle. They can be simply removed and installed elsewhere, eliminating additional CO2 emissions caused by recycling.
Their format and low weight make the slats a perfect choice for use in both solid and wood frame construction. They always stand out with lifelong weather protection, zero maintenance and the combination of design and ecology.

Many colors,
one brilliant size.
Bringing the facade to life. The ceramic panels are available in four modern design colours with a smooth surface: dark grey, medium grey, light grey and matt white. A combination of colours is also possible. Not only do they give your building a modern look, they are also extremely durable and easy to maintain – whether you want eye-catching or subtle elegance.
Other colours for the system are available on request, minimum order quantities may apply Substructure of the ceramic slats
Rear-ventilated slat facade.
Ceramic slats from TONALITY®, similar to the ceramic facade elements, are made of back-profiled elements that are fastened to vertically running aluminium retaining profiles – a simple but ingenious substructure. An even joint pattern that, as an open joint with invisible fastening, represents a particularly high quality.
Suitable for all building sectors.
The ceramic slats and the aluminium system rail as a rear-ventilated facade can be installed in all conventional construction methods. From timber frame construction to sustainable solid construction, the ceramic tile can be used in private residential construction as well as for larger areas in multi-family, municipal and commercial construction.
The substructure at a glance
The ceramic elements are mounted in horizontal position in a 2.85-m-long aluminium system rail, which is in turn fastened vertically to the ground, making it possible to install a total of 19 rows of slats at a time. This makes things easy and guarantees a uniform joint pattern. The combination of open joints and invisible fastening creates a particularly classy appearance.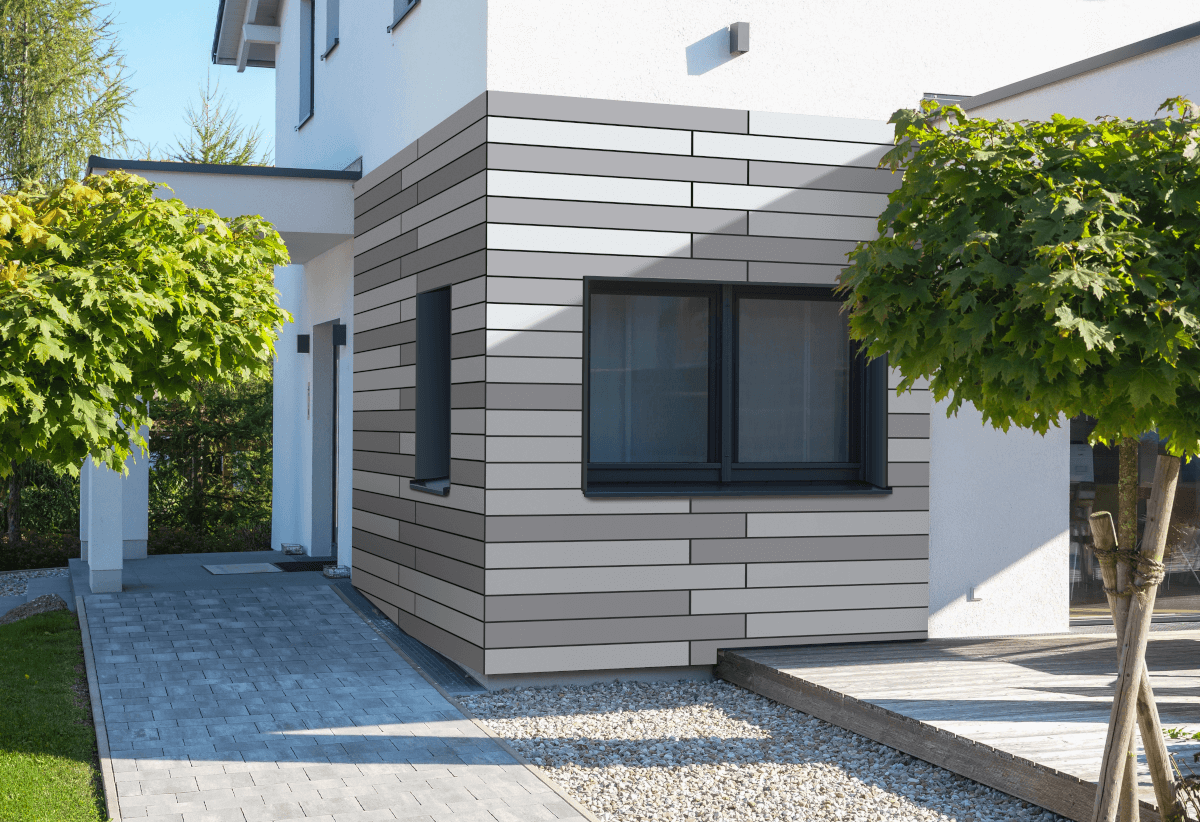 Installing black housewrap
To create a perfect, dark joint pattern, we recommend installing black housewrap underneath the substructure.
Horizontal profiles
The ceramic slats are mounted in the profile in horizontal position and adjusted. Note: The cutting marks (grooves) of the aluminium system rail are ideal for vertical alignment using a laser or string.
Mounting the ceramic slats
The slats are mounted in the preinstalled profiles. Cross, half or one-third bond is possible. To determine the material requirement, we recommend preparing a simple implementation plan in which the surface is outlined and the building openings (windows, doors, etc.) are marked and dimensioned. The desired bond (e.g. half, one-third or two-thirds bond) is then applied to the surface. This approach makes it possible to precisely determine the various profile types and ceramic slats. Further information about the profile types is provided in the installation instructions.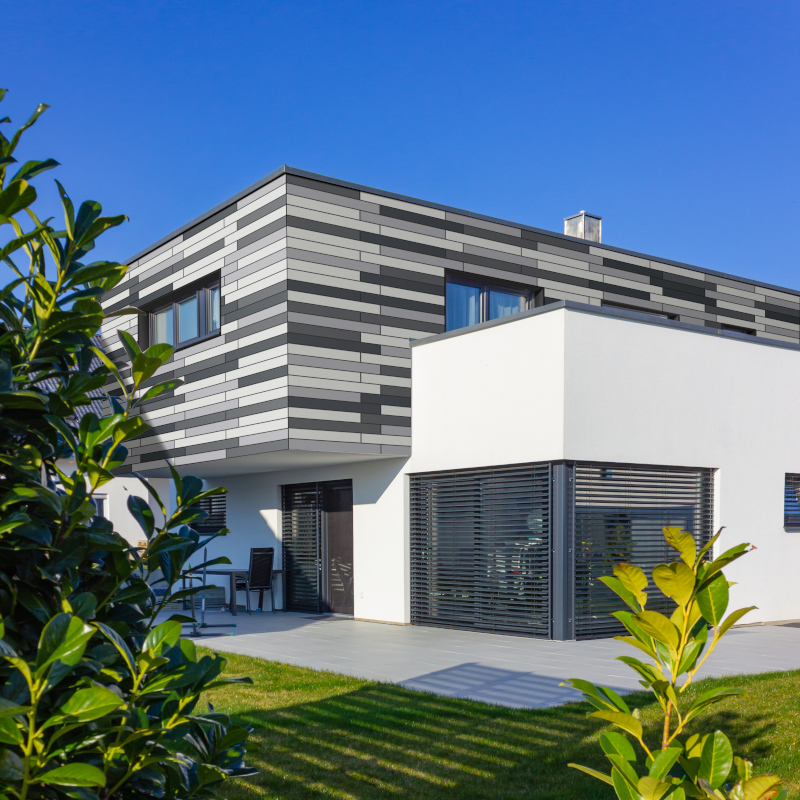 Securing against lateral displacement
The slats are secured using a broad locking pin in the profile. The default pre-bent angle can be bent into the desired final position using customary needle-nose pliers.
Note: Information concerning side and top terminations, corner joints and solutions, connections to other materials and window solutions (lintels, reveals, window sills) can be found in the installation instructions.
The required material must be provided by the customer.