Others call it stylishly modern
We call it the ventilated brick slip rainscreen façade.
With respect to its function, the most important aspect of a façade is to hold off moisture and, if necessary, transport any existing moisture away. Moisture and damp that penetrate a façade and that cannot escape quickly lead to damage to the building and to an unhealthy atmosphere internally due to mould etc. The BrickLine system applies the principle of a ventilated rainscreen façade. This makes use of the stack effect to automatically and continuously transport moisture away. From a bioconstructive perspective, this is highly recommended
– and it permanently protects all components from damp.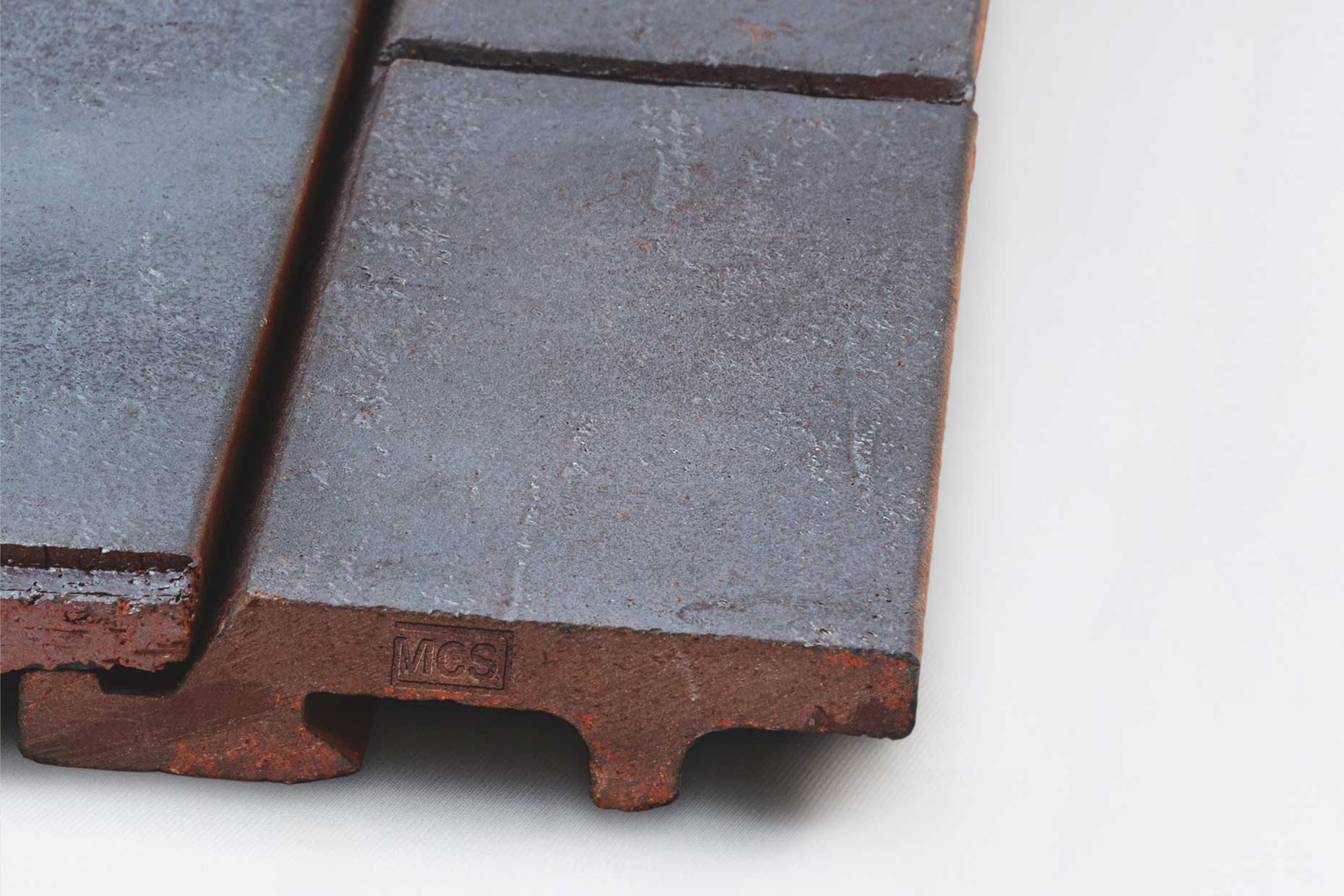 Now we get superficial
Strong colours,
strong clay.
Our brick slips are available throughout the world in a wide variety of colours and with a broad range of surfaces. What they all have in common is that the highest quality clay from the Westerwald was used in their production. The entire production process takes place using the TONALITY® MCS technique. This provides the required strength and robustness.
The advantages in a single glance
One brick slip, many advantages.
The sustainable façade
Resource-efficient production, reusability and the capacity for material-based recycling: this is sustainability in façade construction – with a view to the future.
Upgrade instead of demolish
TONALITY® BrickLine façades are ideal for use in refurbishments. Old exterior insulation finishing systems remain on the wall and are newly clad.
Stability in all cases
The BrickLine brick slips are mechanically attached and withstand extremely high stresses.
Purely dry construction in any weather
The ventilated brick slip rainscreen façade is erected entirely using a dry construction technique. This means that installation can take place all year round – even in frosty temperatures.
Façade construction using the reliable hook system
Thanks to the simple installation principle, our systems can be installed directly after brief training. Accurately and without a special tool.
Completely maintenance-free
No joints requiring maintenance, no prying out of grouting. Offering resistance to vibration at all times.
The highest level of fire safety
Non-flammable. Rated within the highest fire protection class A1 according to DIN 4102 and EN 13501-1.
Reusable
Our façades can be fully dismantled and reused. An advantage in terms of value retention.
Classic, modern, striking or preferably subtle? Thanks to the different shades and surfaces
of our BrickLine brick slips, all facade design wishes can be turned into reality. We would
be happy to provide you with samples so you can see the depth of colour and surface fi nish
of our BrickLine products for yourself.
BrickLine cassette panels are the strongmen in our façade systems. They hold the brick slips and keep them securely in place using zero force thanks to safety catches. They are fixed to the wall in such a way that a ventilation gap ensures sufficient air circulation. This means that the building wall is kept reliably dry and diffused moisture is transported from within to the outside.
Suspension lugs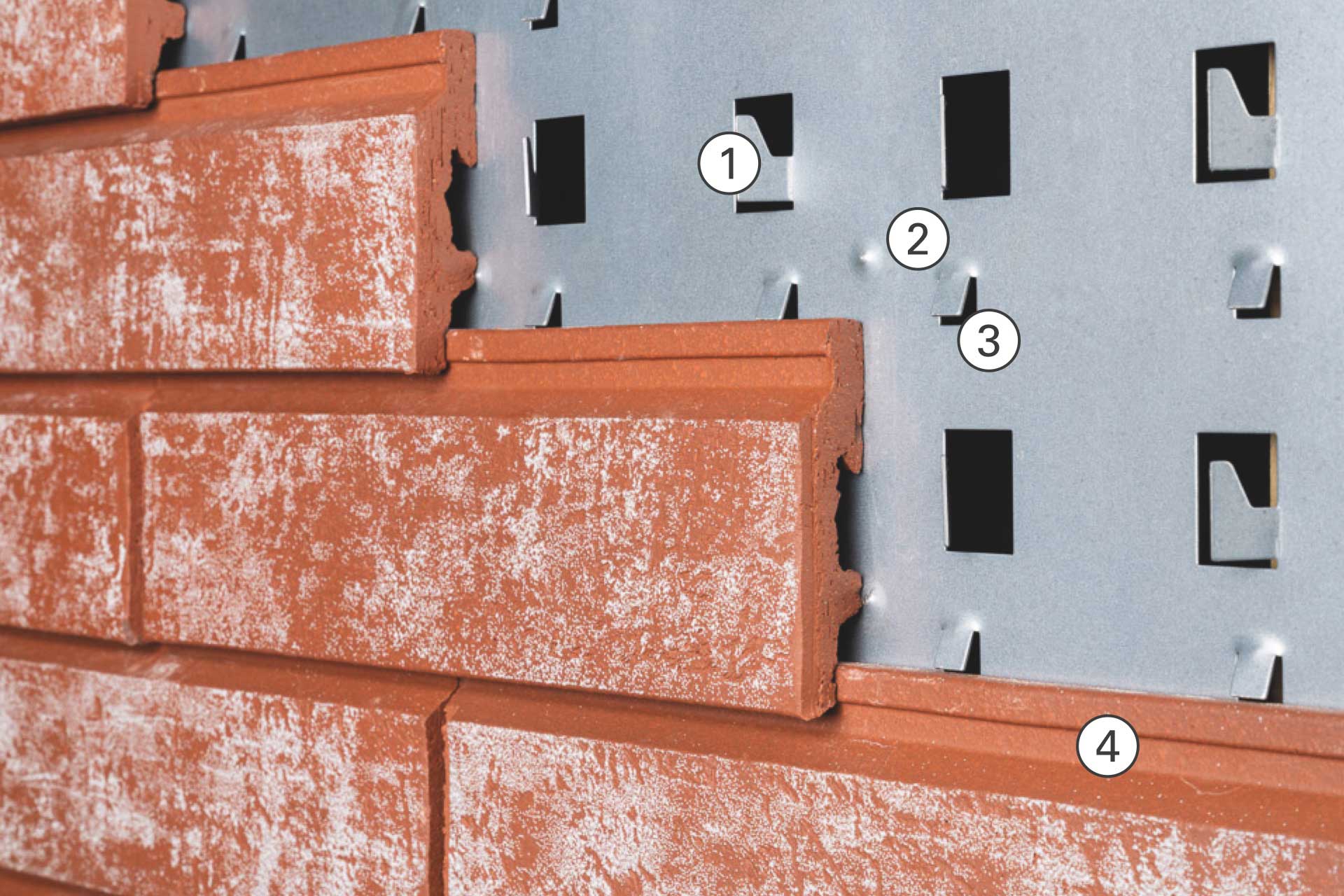 Tile pressure points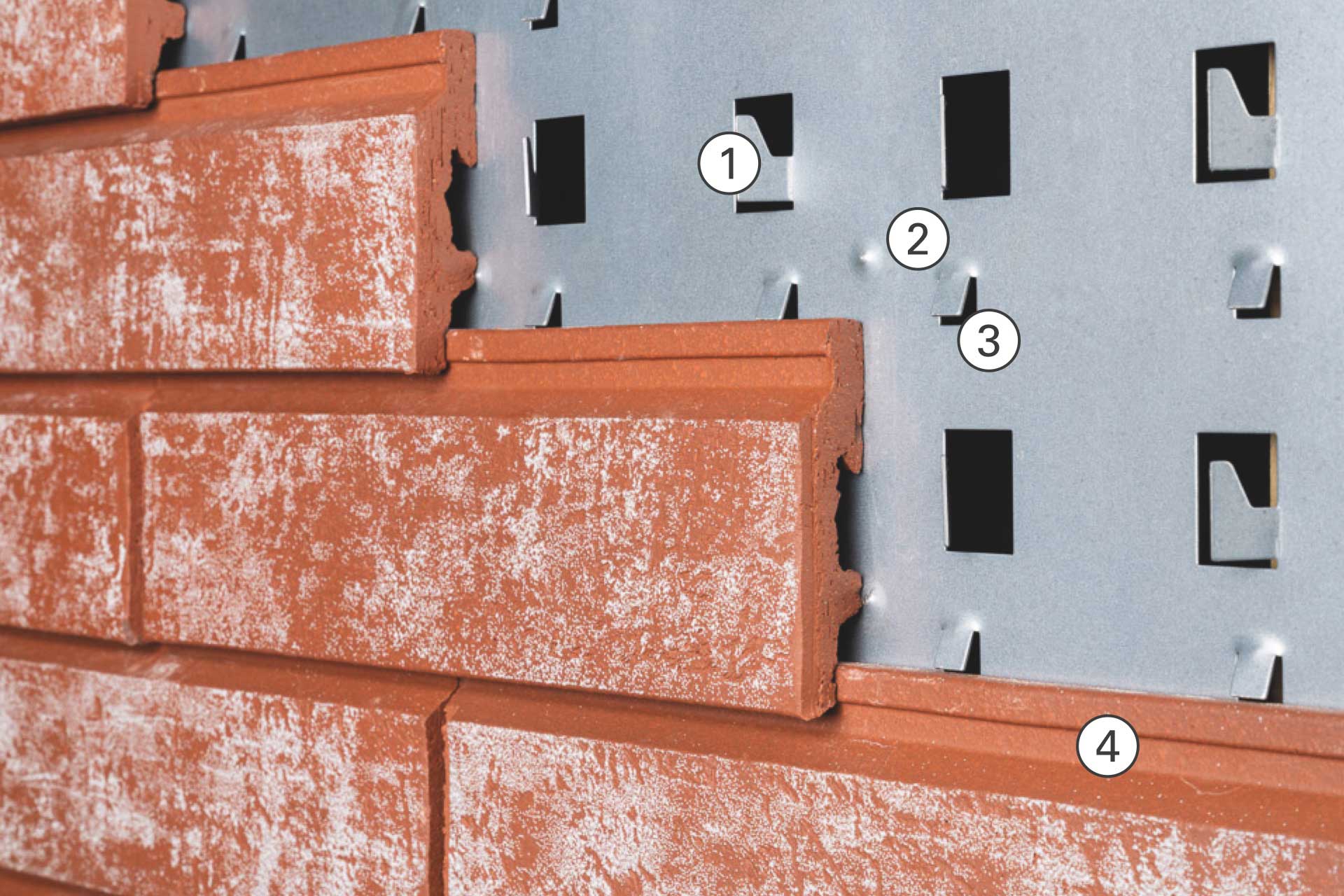 Safety catch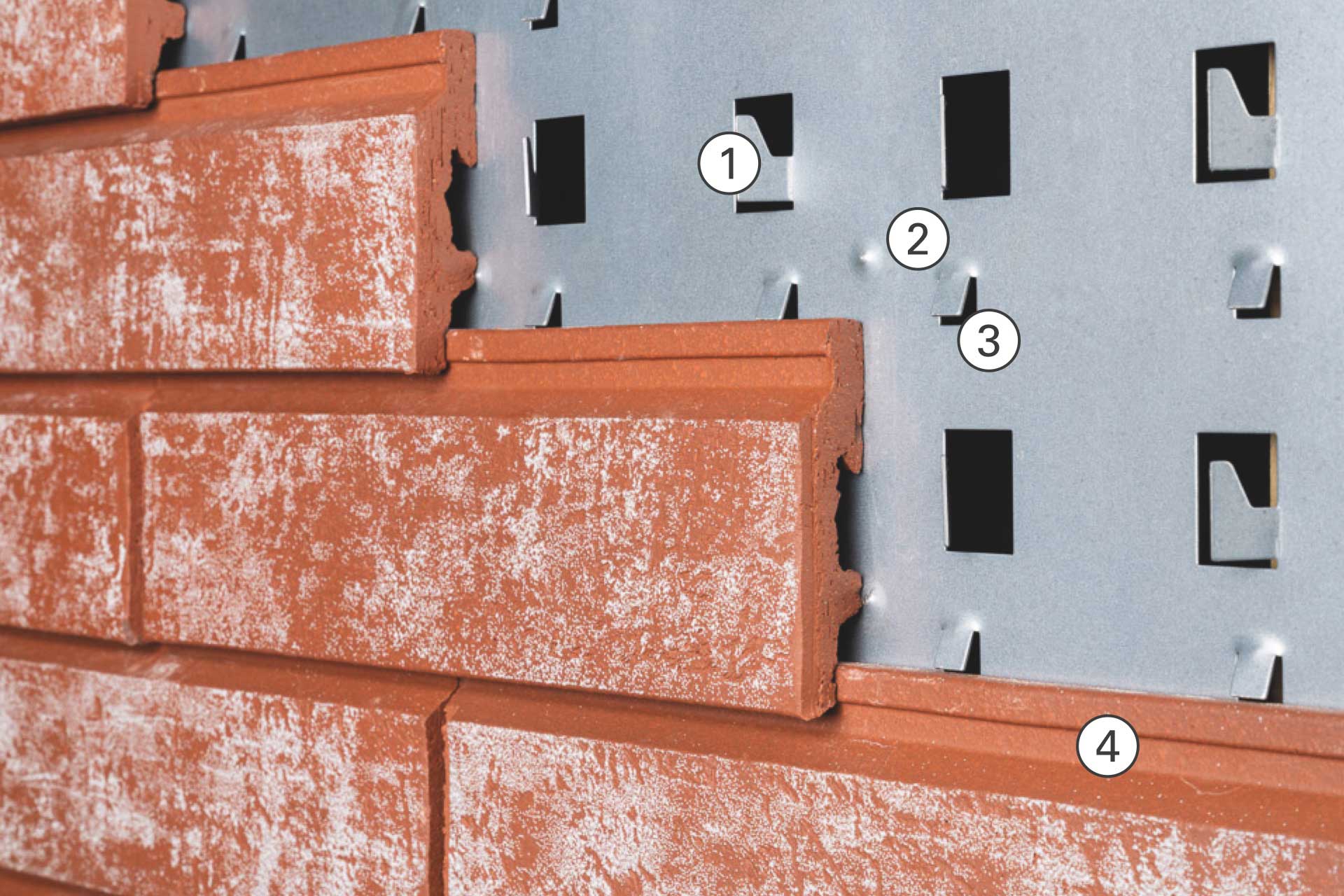 BrickLine brick slips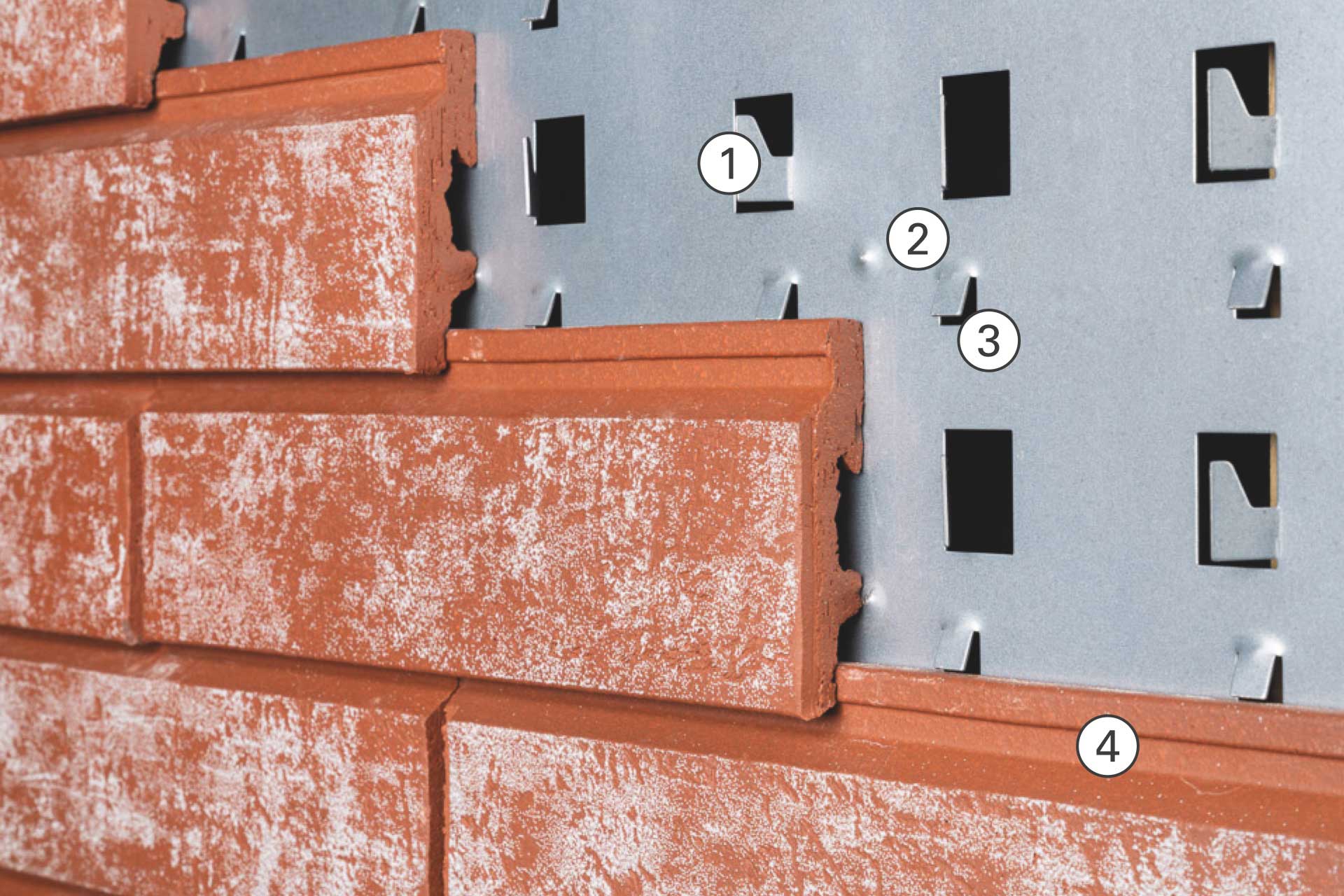 SYSTEM CONFIGURATION & INSTALLATION
Easy installation thanks to TONALITY® hook system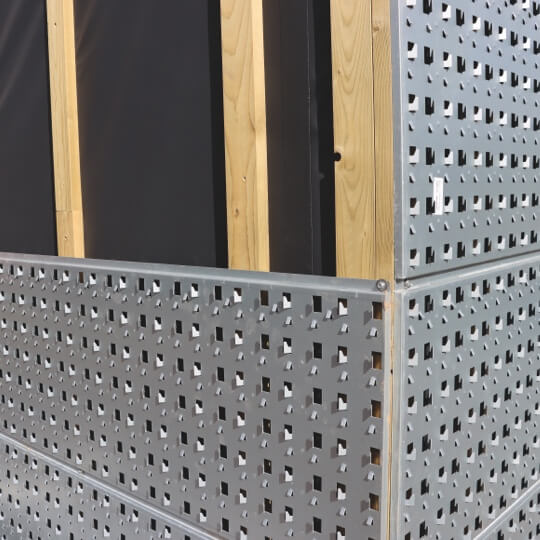 01 | Screw on
The coated ZM310 steel panels are screwed into the substructure.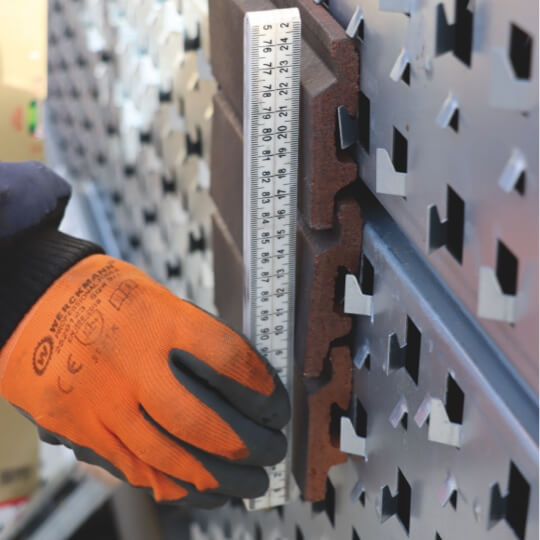 02 | Position
The first brick slips are positioned in accordance with the plans. Positioning can take place individually. The bottom-most row is completed first.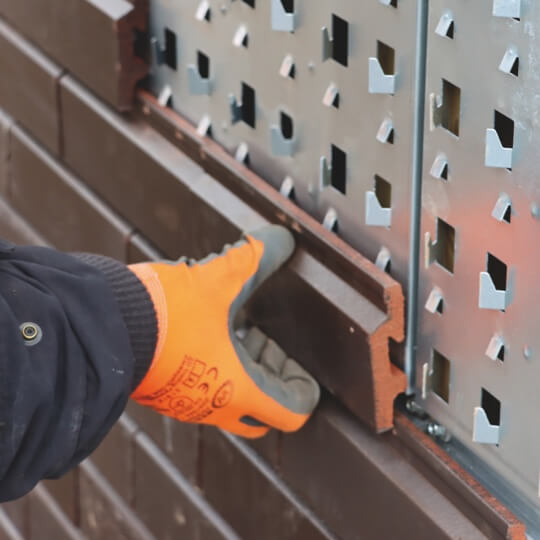 03 | Suspend
The installation hooks on the steel panel enable the simple suspension of the brick slips and ensure that all clearances are complied with precisely.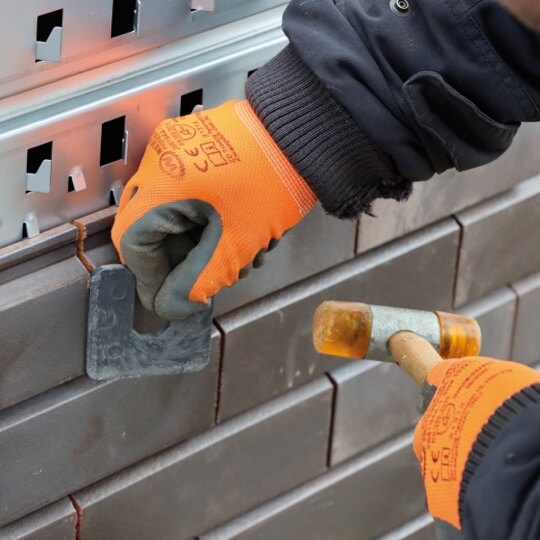 04 | Secure
With gentle taps of a hammer, the brick slips can be finally positioned and subsequently anchored in the catch mechanism using zero force.
Exterior wall
Solid external wall.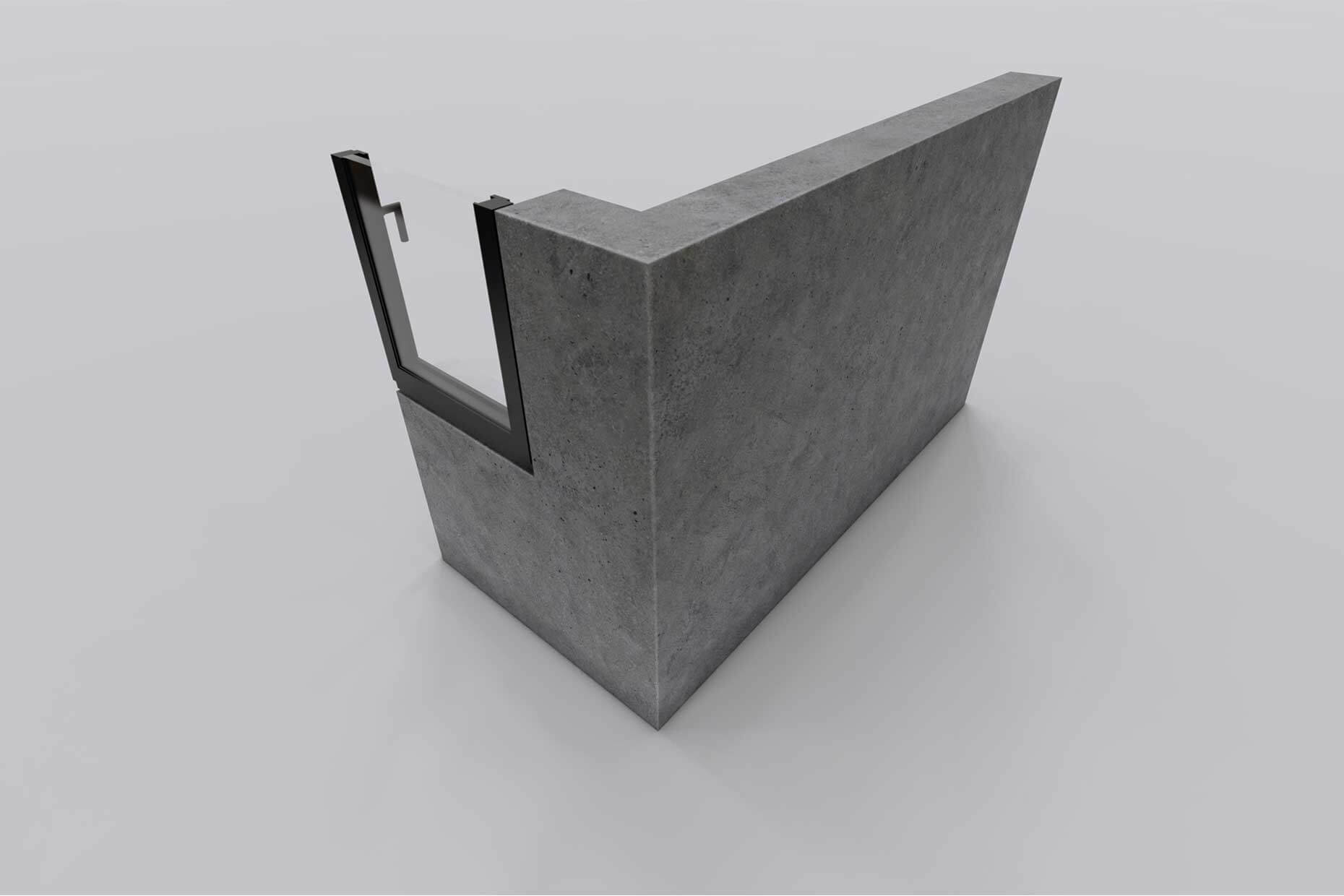 Wall mount
Installation of wall brackets with Thermostop.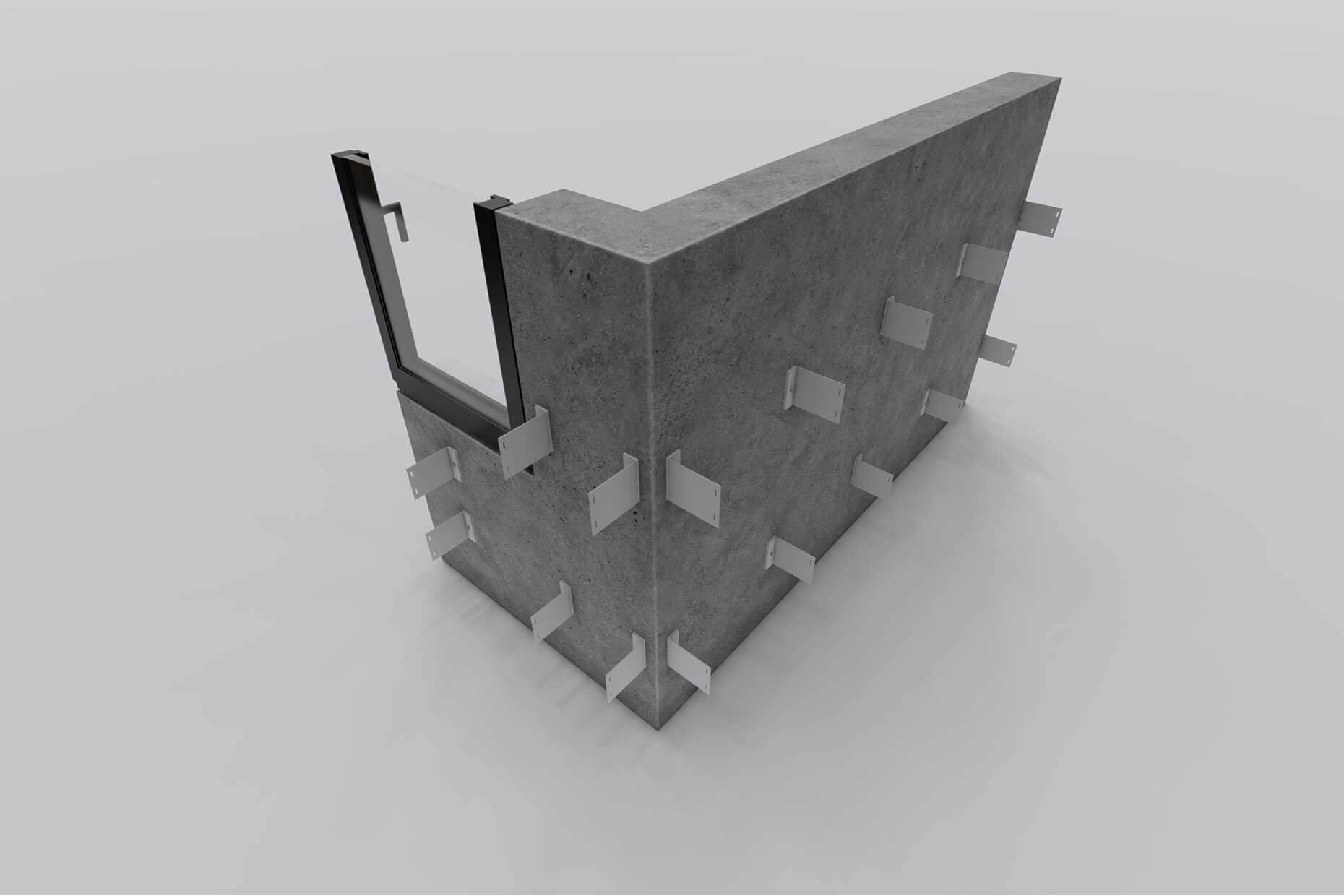 Insulation
Installation of insulation.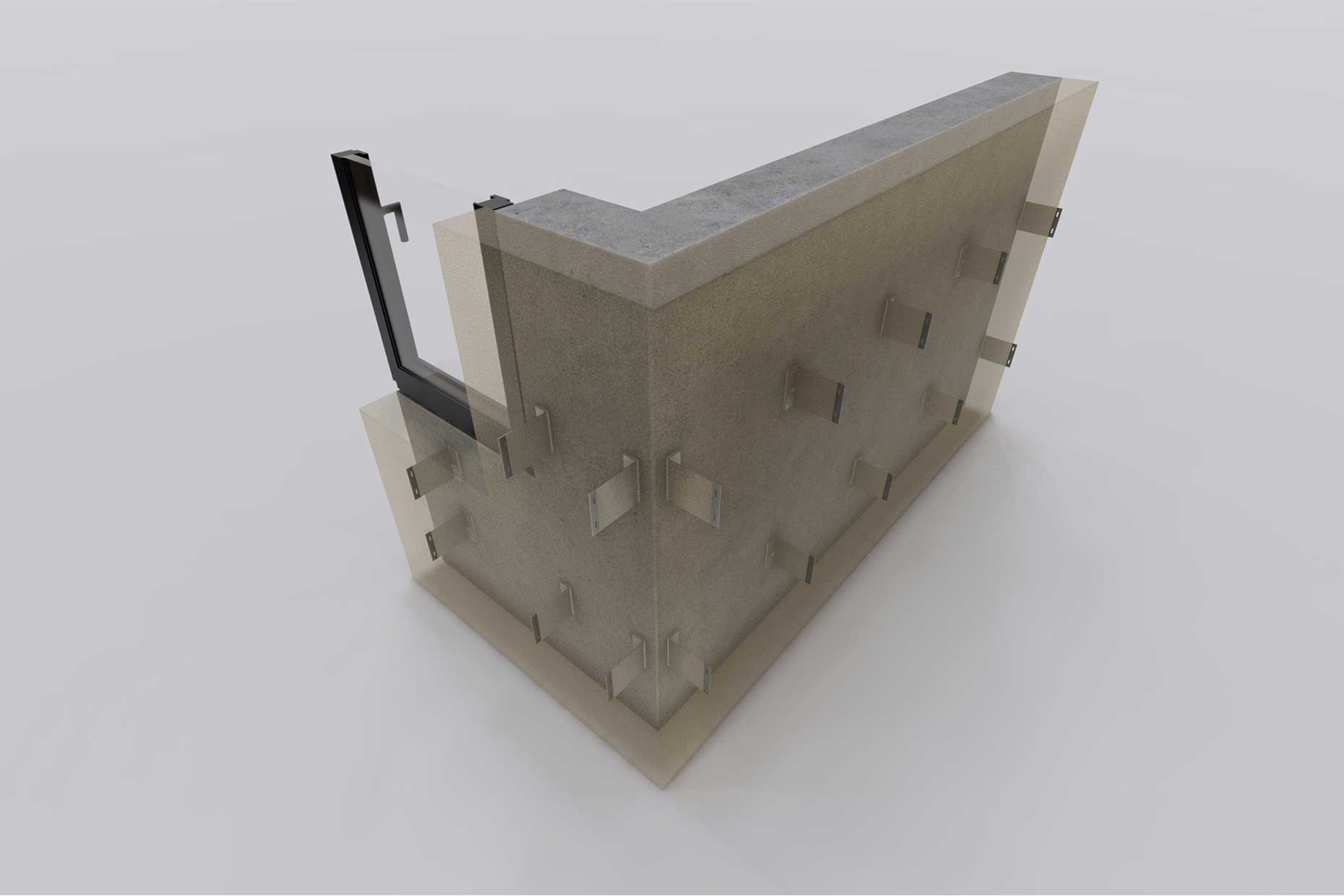 Profile
Installation of vertical L- or T-profi les and window jamb if in metal.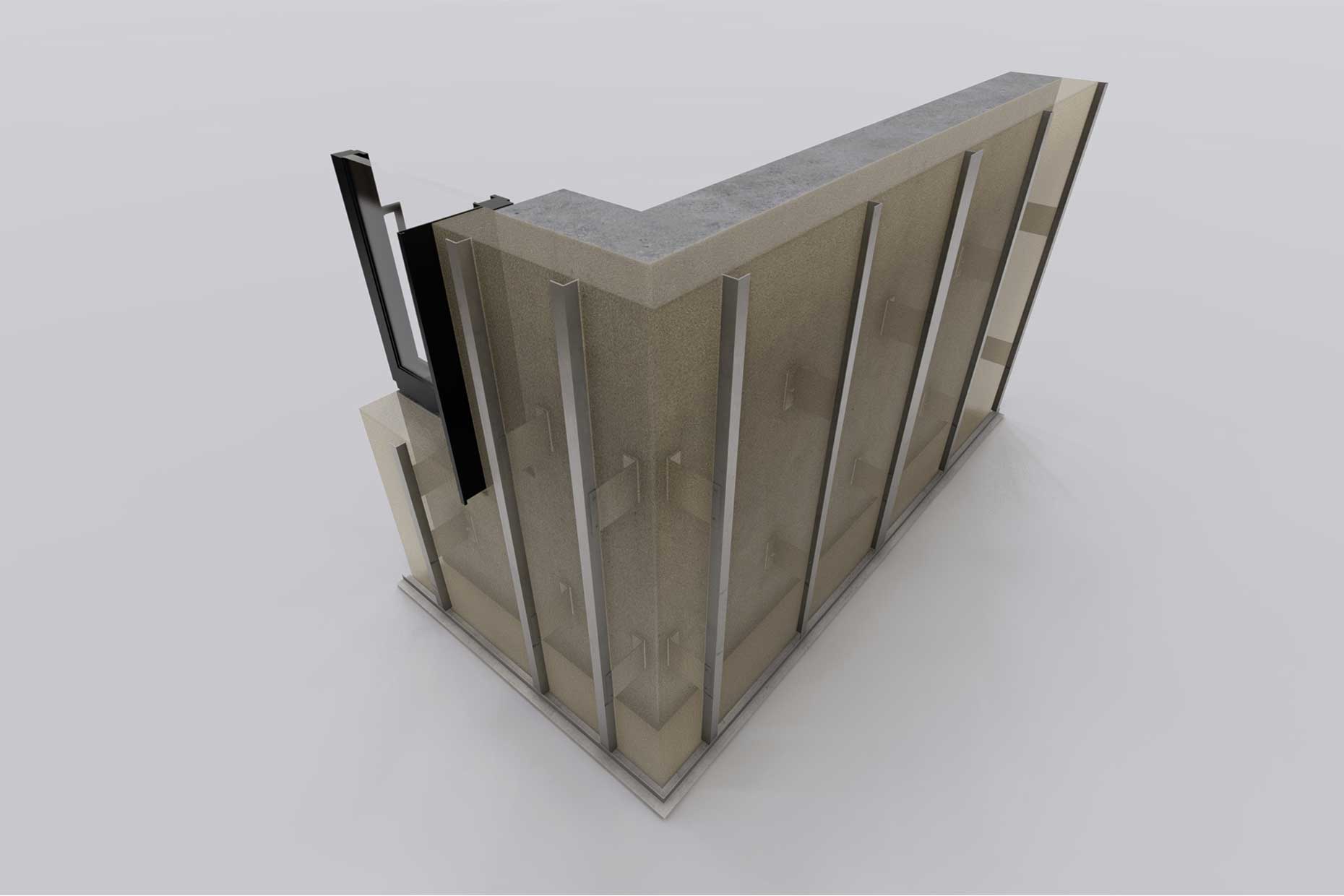 Cassette panel
Installation of cassette panels.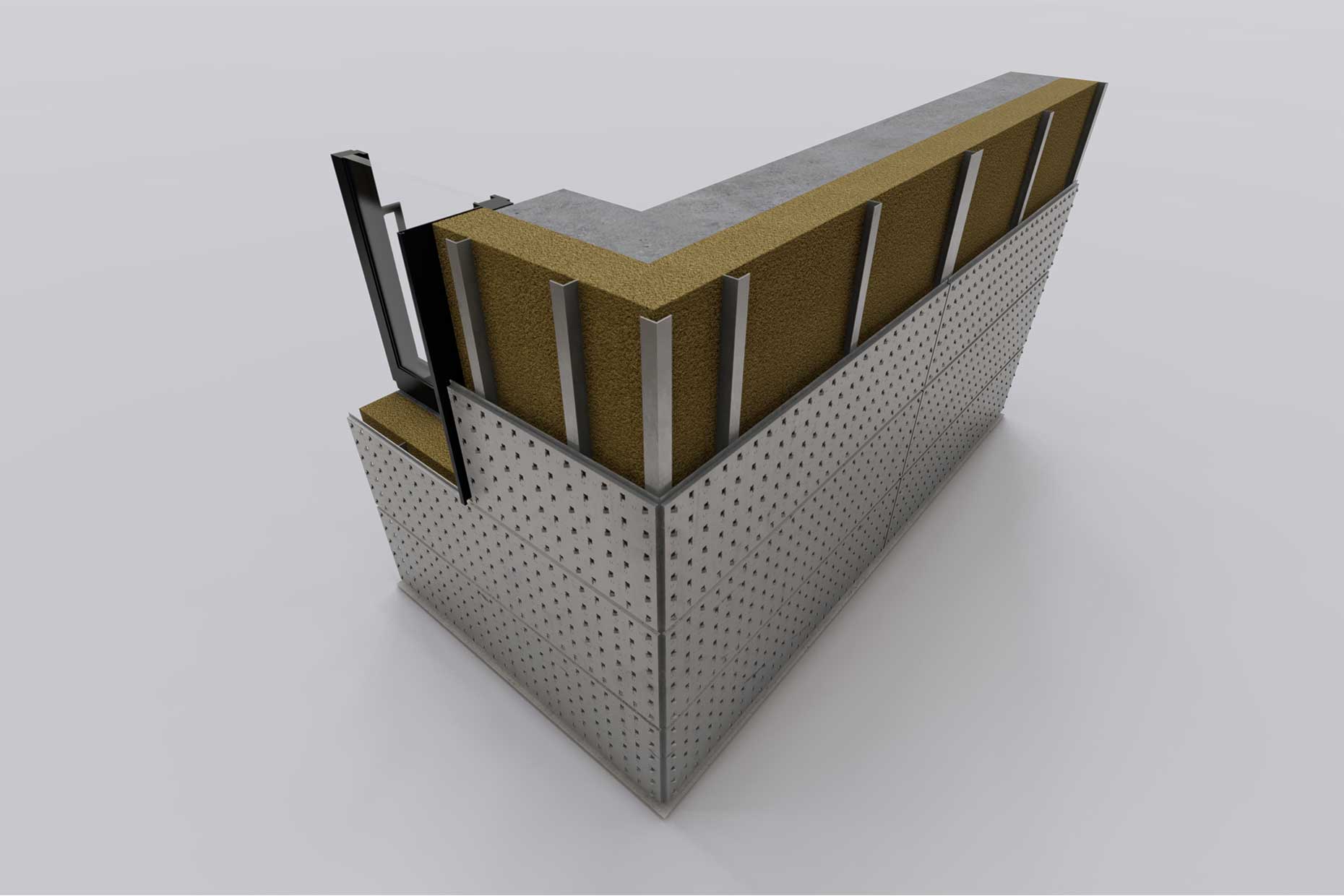 Suspend
Suspension/tapping in of BrickLine brick slips.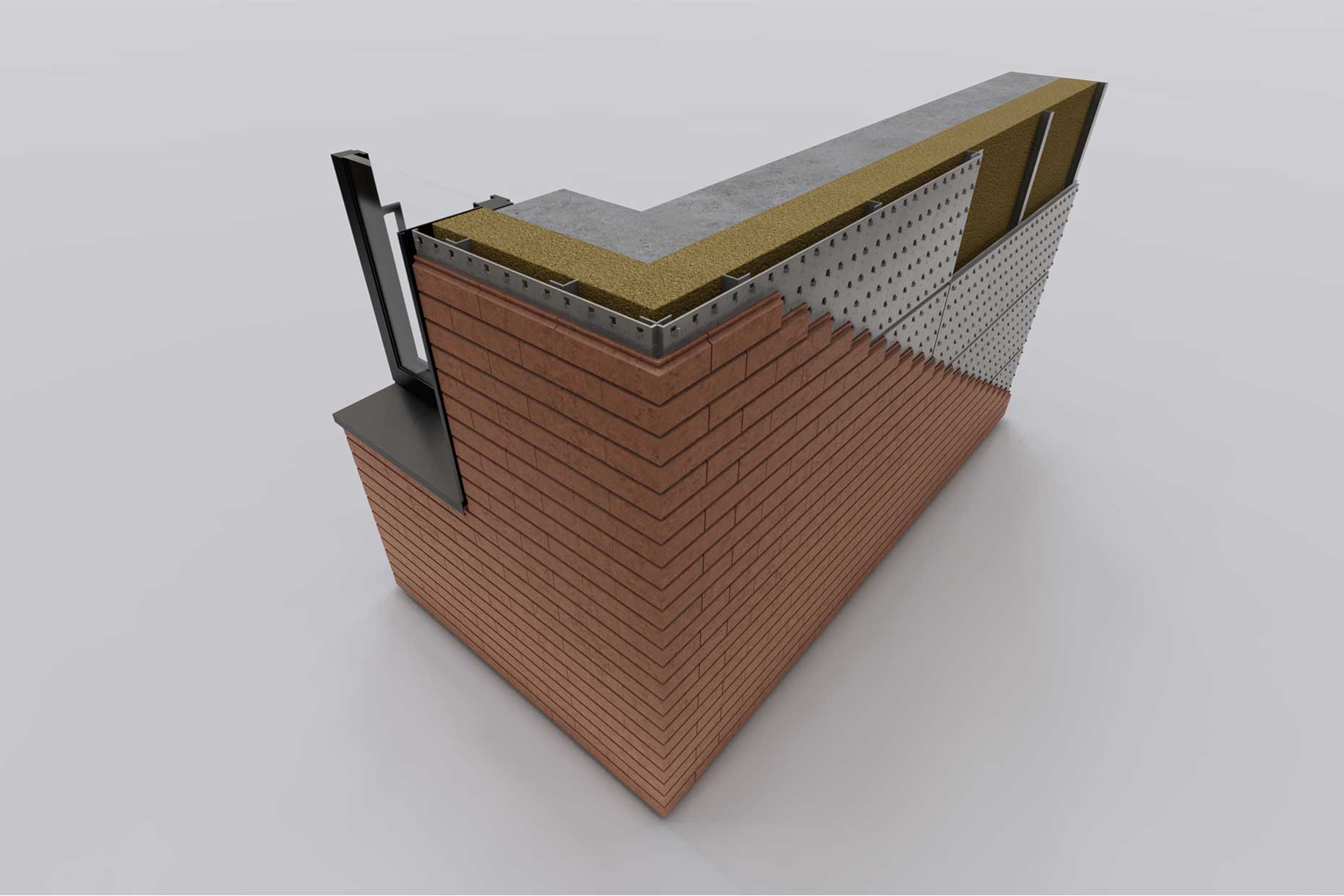 Exterior wall
Wooden external wall (e.g. OSB board or formwork), with wind barrier depending on requirements.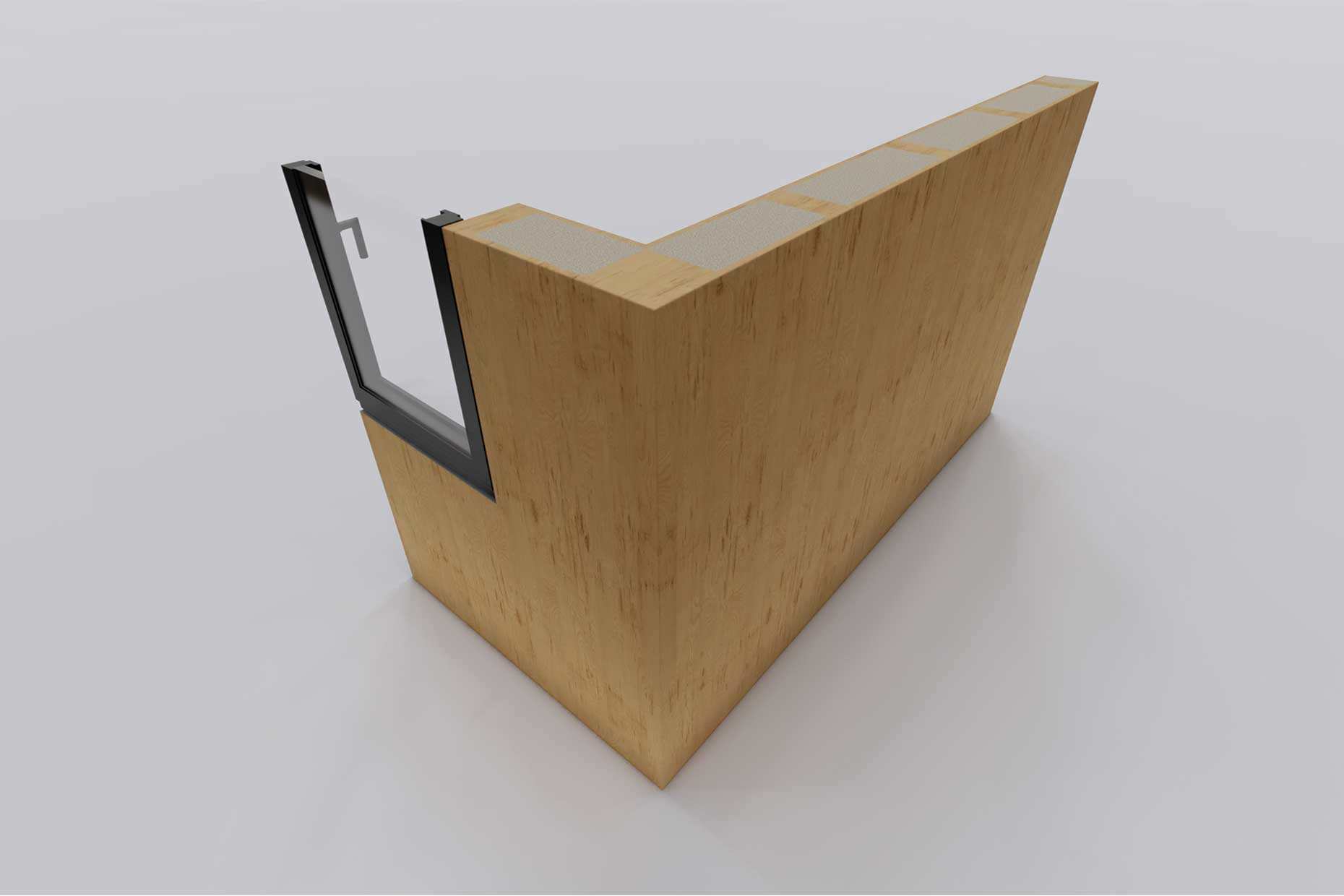 Wall mount
Vertical installation on construction timber (thickness of at least 25 mm) to form a ventilation gap.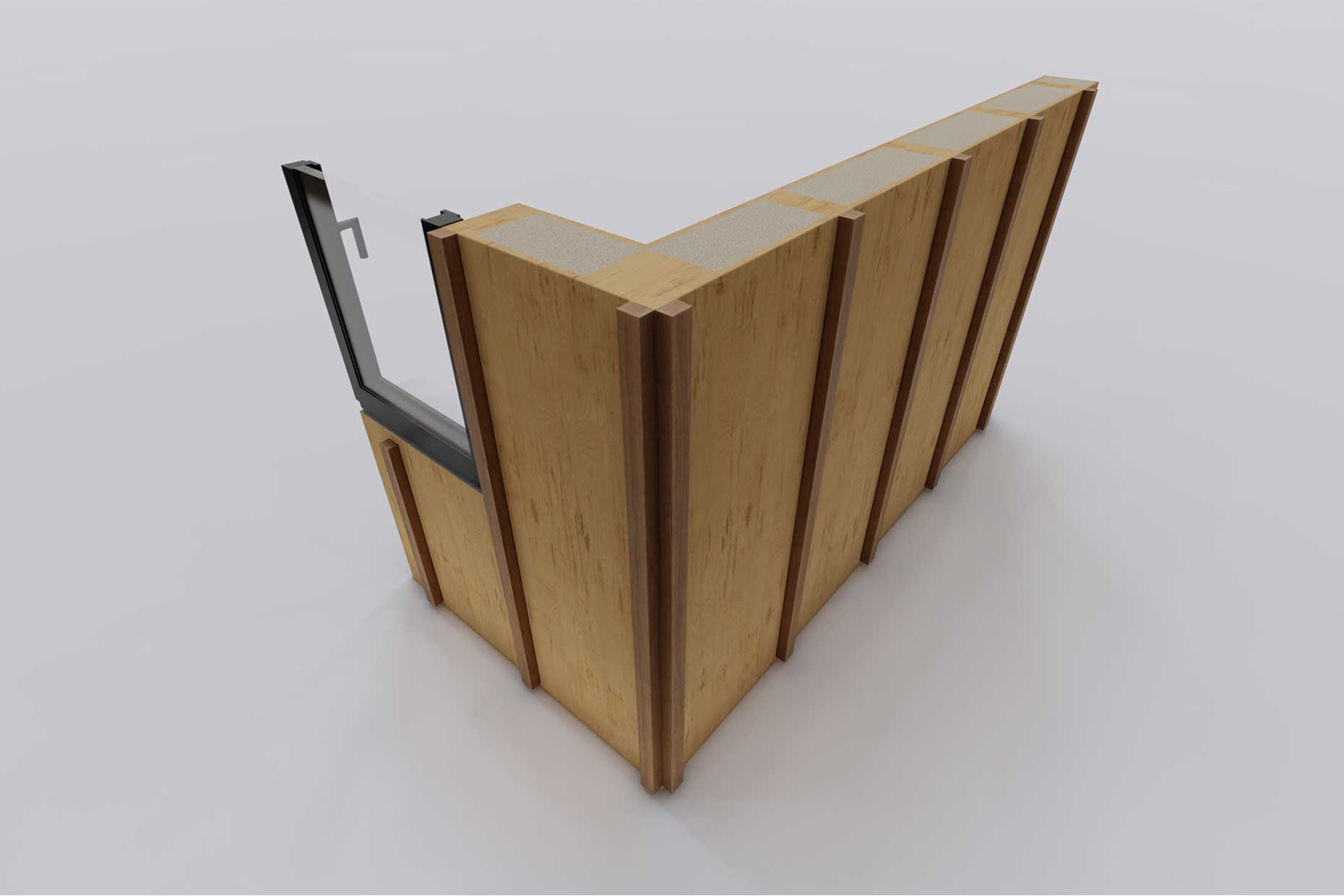 Window reveal
Installation of window jamb if in metal.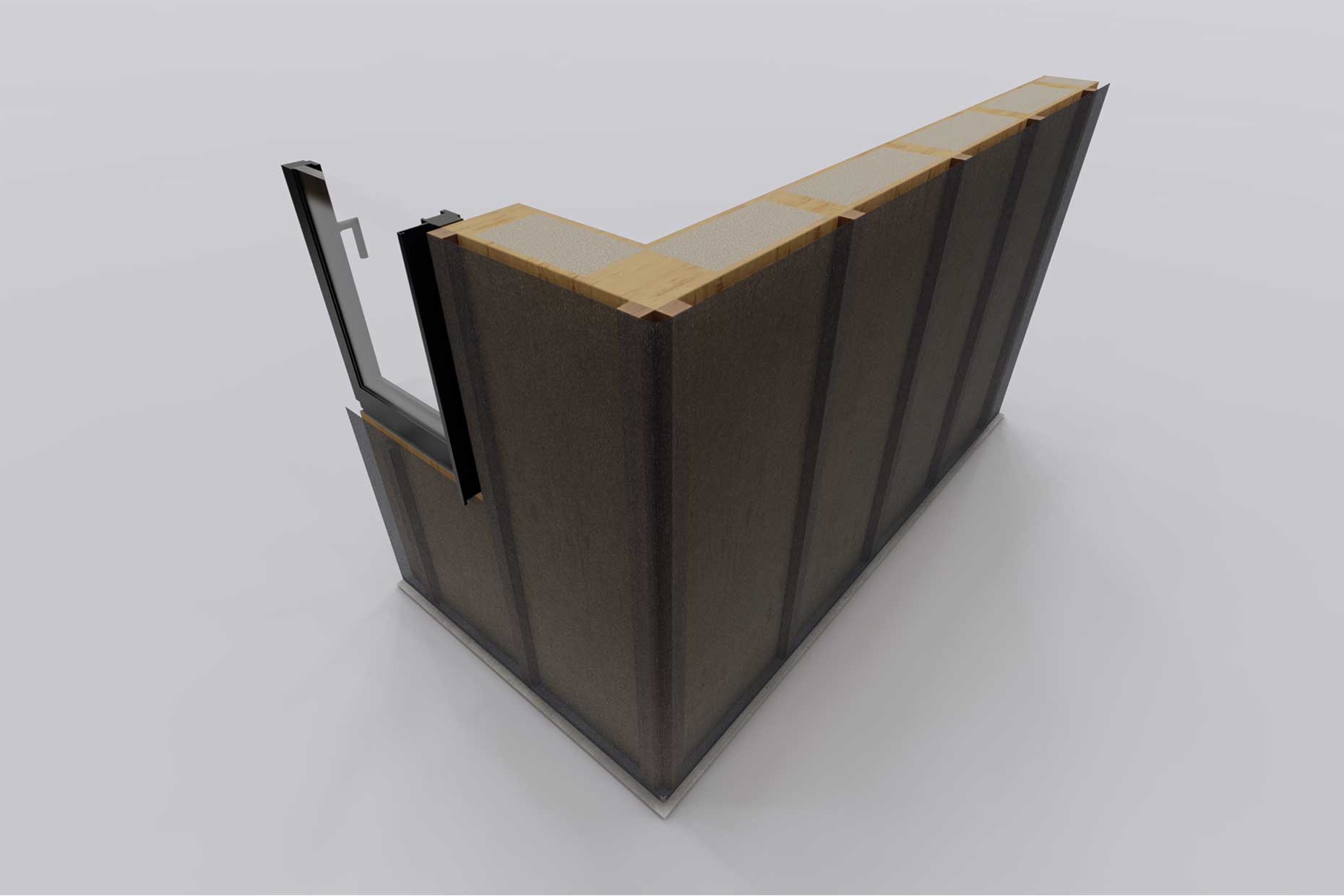 Cassette panel
Installation of cassette panels.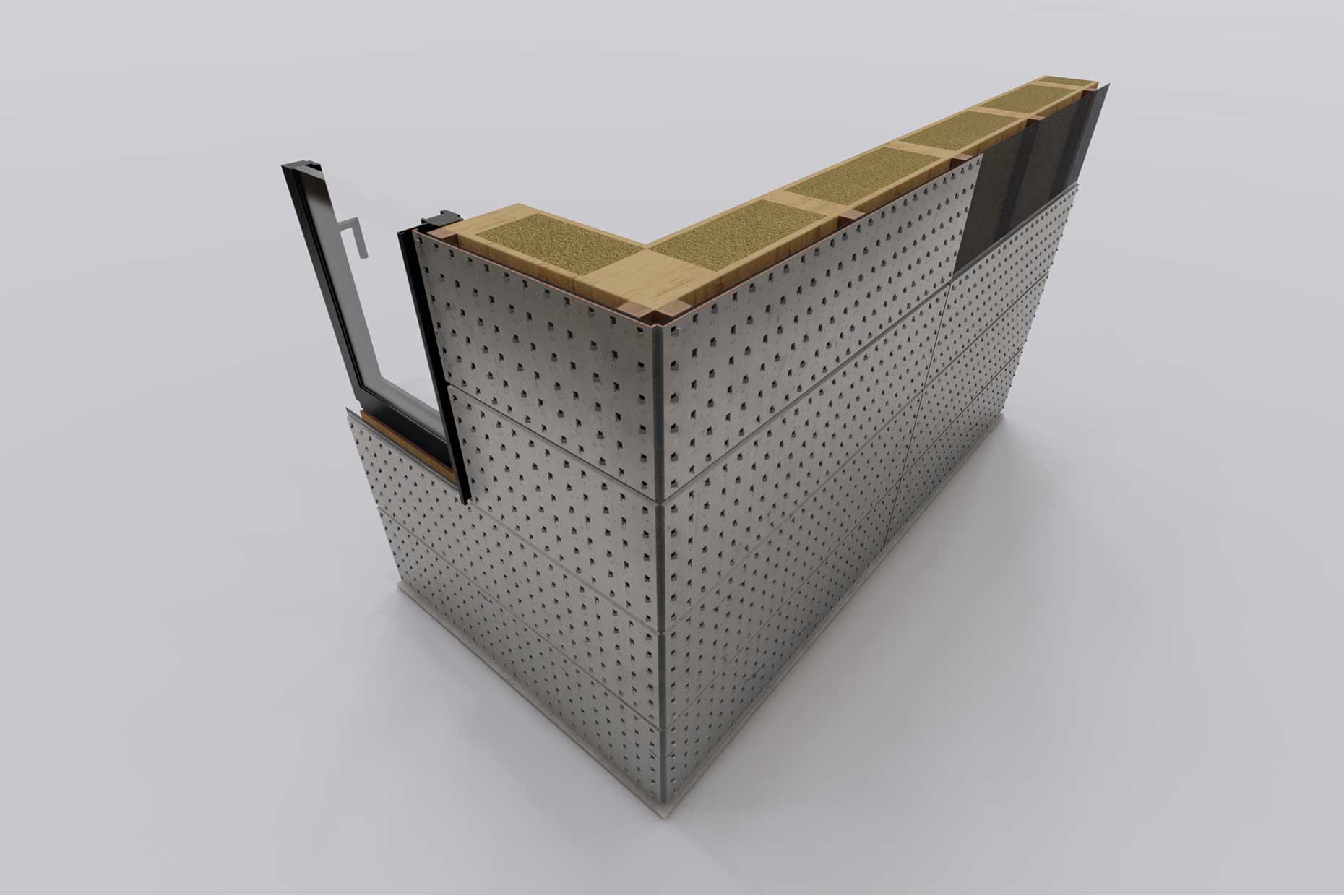 Suspend
Suspension/tapping in of BrickLine brick slips.